Bob's Outreach
Reaching out and making things happen… with your help!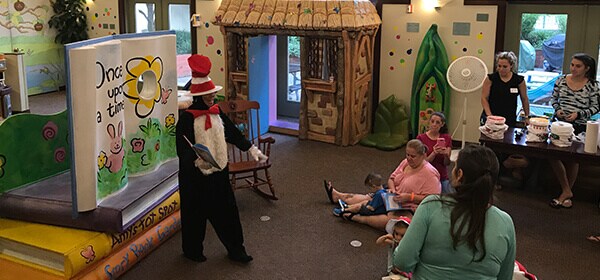 I'm on a mission to help as many schools and non-profits in the communities we serve as possible! My Outreach Team and Van are out and about making our cities and towns a better place with each and every stop! From surprising schools with huge checks to rolling up our sleeves at soup kitchens, my team and I are dedicated to helping worthy causes. Here's a short list of just a few of the many Bob's Outreach Programs that are near and dear to our hearts.
Bob's Café Collections for a Cause!
In the Café of each store, a larger than life statue of me proudly collects thousands of dollars every month. The collections are driven by our loyal and generous customers who choose to give back to their community, while enjoying free goodies in our Café. Each quarter I select a worthy non-profit to be the recipient of all monies donated by YOU in every Bob's Café chain wide! I then match 100% of your Café Collection donations and give that directly to the non-profit. So...the more you give, the more I give! It's a win-win!
For our 1st quarter I have selected
Special Olympics
! Special Olympics provide year-round sports training and athletic competition in a variety of Olympic-type sports for children and adults with intellectual disabilities.
For our 2nd quarter,
Autism Speaks
is the worthy recipient! Autism Speaks is dedicated to improving the lives of persons with autism and their families to help change the future for all who struggle with an autism spectrum disorder.
For our 3rd quarter, we have chosen
Alex's Lemonade Stand Foundation
. Inspired by Alexandra "Alex" Scott and her mission to find cures for all types of childhood cancers, the organization is committed to raising funds for research into new treatments and cures for all children fighting cancer.
For our 4th quarter, my Café Collections donations support the
Pajama Program
! Pajama Program promotes and supports a comforting bedtime routine for children affected by instability to help them thrive. By offering magical tools of new pajamas and storybooks, we help transform their bedtimes. After all, good nights are good days.
Who doesn't love a surprise? I know I do and that's why each month, at least one Random Act of Kindness is fulfilled. A Random Act of Kindness gives additional aid to schools and programs for children. Giving varies, depending on need and requests are driven by the community.
I am proud to support the mission of the March of Dimes to prevent birth defects, premature birth and infant mortality. About four million babies are born in the U.S. every year, and the March of Dimes is committed to giving every baby a fighting chance through research, education, vaccines and breakthroughs. Join our efforts to support the health of moms and babies by joining March for Babies in a city near you and participating in a March for Babies walk.
Rocking The Road to Read With Bob's Outreach!
Every year with the communities we serve, I share the love of reading in local children's hospitals. Smiles and goodies are left behind with every visit, as my Outreach team dresses up as The Cat in The Hat and brings the newest Seuss book to life! Since 2014, the first year I created this amazing program with the support of Reach out and Read, we have visited dozens of hospitals, doctors offices and even schools performing the beloved book! If interested contact us…we would love to come your way! Learn more
here
!
Home is Where the Heart is
This program focuses on helping furnish children's shelters in our communities. Prior to the opening of a new store, one shelter in the community chosen is randomly selected by the Pajama Program. The Pajama Program is a non-profit that we proudly support through our café collections campaign. Once the shelter is notified, they are asked to compile a wish list of needed items from our Bob's website. On the opening day of the new store, the children are treated to a ride in a stretch limo or Hummer for a shopping trip that they will never forget! After the ribbon-cutting ceremony, the children are free to touch, see and try out the new furniture that they have chosen. The highlight of the day is when the children learn that they can select one item for themselves. We want them to have something they can call their own when they move on to their new home.