Bob's Outreach
Doing good by helping others
I'm on a Mission to Help Others!
Nothing warms my little heart more than the smile on someone's face when they see their new furniture or I hand them a BIG donation check! Giving back to the local community has been a priority for me ever since I opened the doors to my very first Bob's back in 1991. The mission of Bob's Outreach program is to help children and families thrive! With the help of my dedicated employees, we support hundreds of nonprofit organizations with sponsorships and charitable contributions, each and every year.
Through the Outreach Program and Bob's Discount Furniture Charitable Foundation, Bob's donates more than $100,000 to schools and close to $3 million dollars to charities a year! And I couldn't do this without your help and donations collected through my Café Collections for a Cause program.
Café Collections for a Cause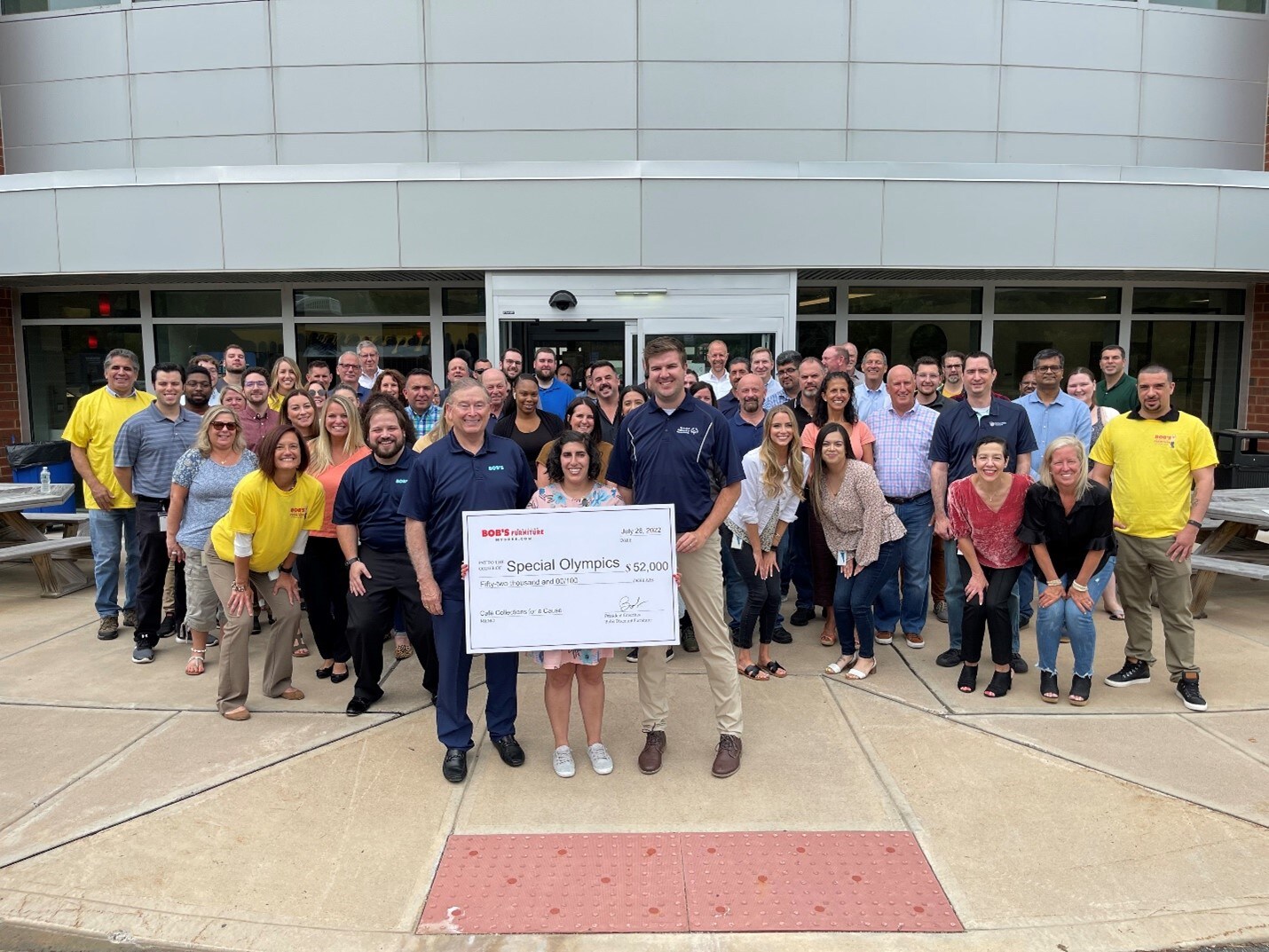 Bob's employees gathered at the Manchester, CT headquarters on July 26, 2022 to celebrate a $52,000 Café Collections for a Cause donation to Special Olympics made possible by the generous contributions of guests and a match from Bob's. Since partnering with Special Olympics 14 years ago, Bob's has given more than half-a-million dollars to the organization. Special Olympian and Bob's Employee Alexa Lotufo (center), Bob's CEO Bill Barton (left), Special Olympics Director of Partnerships Christian McCormick (right).
In every Bob's store across the country, I proudly collect thousands of dollars from my loyal and generous customers who choose to give back to their community, while enjoying free goodies in my Café. On average, customer contributions are close to $40,000 per quarter. That's a lot of money! But it doesn't stop there. I match 100% of your Café Collection donations, up to $75,000, and then give that money directly to the nonprofit. So... the more you give, the more I give!
Featured Organizations: Children's Miracle Network Hospitals
All of the money raised in Bob's 164 cafés nationwide during the first quarter of 2023 will be allocated to support member hospitals of Children's Miracle Network Hospitals.
Every dollar raised through this campaign at each Bob's location will stay with that local area to support the member children's hospital in that community.
Donations are also being accepted online so you can visit the page here or scan the QR codes found on our donation posters in the store cafés and select your local partner hospital to make a donation.
CMN Hospitals support the health of 10 million kids each year across the U.S. and Canada. Donations go to local hospitals to fund critical life-saving treatments and healthcare services, along with innovative research, vital pediatric medical equipment, child life services that put kids' and families' minds at ease during difficult hospital stays, and financial assistance for families who could not otherwise afford these services.
Stopping by a local Bob's to support CMN is also helping a local neighbor in need!
You can learn more about the first quarter charities here.
Find your nearest store.
Random Acts of Kindness
Who doesn't love a surprise, especially when it involves money?! I just love handing out Random Acts of Kindness checks to local nonprofit and community organizations throughout the year. Every time I open a new store, I'll invite two community organizations to attend the grand opening celebration so I can hand them a BIG donation check. I'm talking the BIG check, and since I'm only two-feet-tall, I usually have one of my managers help with the presentation.
Furniture Donations
If there's one thing I love more than talking about furniture, it's giving away furniture to those who are in need. My Outreach team and I partner with a variety of nonprofit organizations and professional sports teams across the country to donate brand-new furniture to those in need. From families battling pediatric cancer to residents who have been displaced by fire to people looking for a safe environment to live, I'm here to help.
Supporting Shelters & Transitional Housing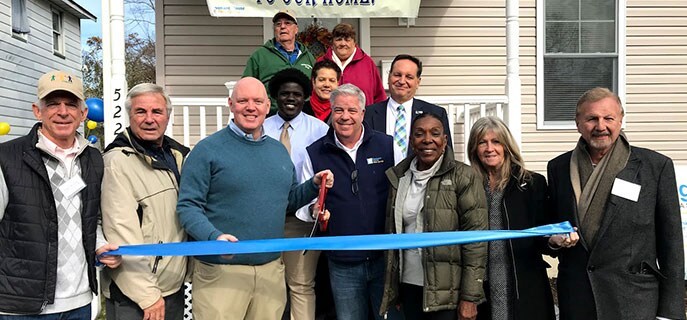 Representatives from Bob's Discount Furniture and the New York Giants help cut the ribbon on the new Rights of Passage II home in Asbury Park, New Jersey.
I believe that everyone should have a safe and comfortable place to live in. Throughout the year, I donate brand-new furniture, accessories and bedding to various shelters and transitional homes across the country. I can't begin to describe the joy I feel when listening to the residents explain how much a new bed or a new sofa means to them.
Food Pantry Donations
During each holiday season, I support hunger relief organizations near each of my Bob's Discount Furniture locations across the country. In 2021, I donated a total of $310,000 to food pantries and hunger relief organizations near my stores and distribution centers. Each organization received a $2,000 donation. Read more.
"Over the past 18-months, we experienced a 450% increase in the need for food support, and hundreds of volunteers donated their time to ensure homebound seniors and people in need received lifesaving food support," said Danielle Ellman, President & CEO, of Commonpoint Queens. "We are very grateful to Bob's for their $2,000 donation which was put to immediate use getting critical food supplies to our most vulnerable. Our goal is that no one goes to bed hungry on our watch and we are very grateful to Bob's for helping us keep our pledge."
Employee Engagement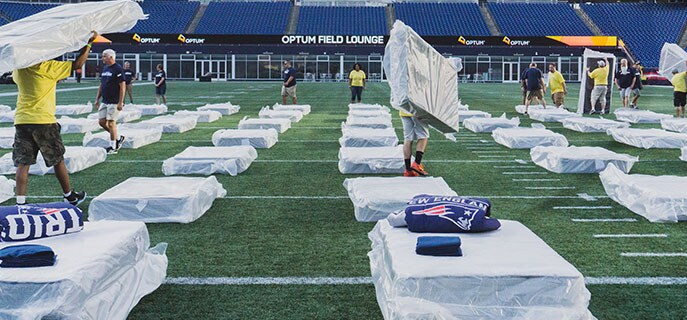 Volunteers set up the 200 beds on the field at Gillette Stadium.
None of these amazing community projects are possible without the support of my employees. I just love seeing the community spirit my team displays from coast-to-coast. My team is always eager and willing to help out with any community project.