Bob's Outreach
Doing good by helping others
I'm on a Mission to Help Others!
Nothing warms my little heart more than the smile on someone's face when they see their new furniture or I hand them a BIG donation check! Giving back to the local community has been a priority for me ever since I opened the doors to my very first Bob's back in 1991. The mission of Bob's Outreach program is to help children and families thrive! With the help of my dedicated employees, we support hundreds of nonprofit organizations with sponsorships and charitable contributions, each and every year.
Through the Outreach Program and Bob's Discount Furniture Charitable Foundation, Bob's donates more than $100,000 to schools and close to $3 million dollars to charities a year! And I couldn't do this without your help and donations collected through my Café Collections for a Cause program.
Café Collections for a Cause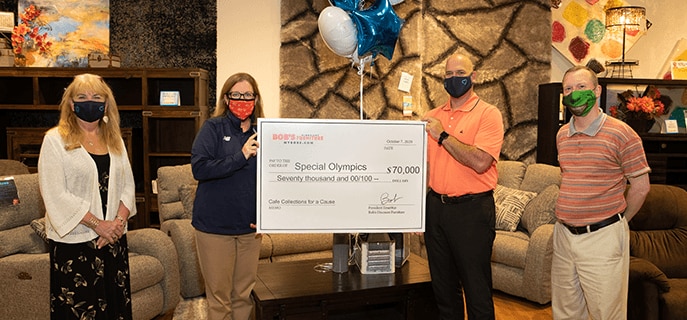 Bob's Discount Furniture presents Special Olympics with a check for $70,000. (From left to right) Debra Lytle, store manager; Mary Beth McMahon, president and CEO of Special Olympics Massachusetts; Rob Ringler, regional manager and Sean Lanagan, sales manager.
In every Bob's store across the country, I proudly collect thousands of dollars from my loyal and generous customers who choose to give back to their community, while enjoying free goodies in my Café. On average, customer contributions are close to $40,000 per quarter. That's a lot of money! But it doesn't stop there. I match 100% of your Café Collection donations, up to $75,000, and then give that money directly to the nonprofit. So... the more you give, the more I give!
Featured Organization: Special Olympics
All of the money raised during the first quarter of 2022 will go to Special Olympics. Special Olympics provides year-round sports training and competition in a variety of Olympic-type sports for all children and adults with intellectual disabilities, giving them continuing opportunities to develop physical fitness, prepare for entry into school and community programs, demonstrate courage, experience joy and participate in the sharing of gifts, skills and friendship with their families, other Special Olympics athletes and the community.
Bob's has been a proud partner with Special Olympics since 2014. Over the last seven years, Bob's has donated $442,000 to Special Olympics. Find your nearest store.
Random Acts of Kindness
Who doesn't love a surprise, especially when it involves money?! I just love handing out Random Acts of Kindness checks to local nonprofit and community organizations throughout the year. Every time I open a new store, I'll invite two community organizations to attend the grand opening celebration so I can hand them a BIG donation check. I'm talking the BIG check, and since I'm only two-feet-tall, I usually have one of my managers help with the presentation.
Furniture Donations
If there's one thing I love more than talking about furniture, it's giving away furniture to those who are in need. My Outreach team and I partner with a variety of nonprofit organizations and professional sports teams across the country to donate brand-new furniture to those in need. From families battling pediatric cancer to residents who have been displaced by fire to people looking for a safe environment to live, I'm here to help.
Supporting Shelters & Transitional Housing
Representatives from Bob's Discount Furniture and the New York Giants help cut the ribbon on the new Rights of Passage II home in Asbury Park, New Jersey.
I believe that everyone should have a safe and comfortable place to live in. Throughout the year, I donate brand-new furniture, accessories and bedding to various shelters and transitional homes across the country. I can't begin to describe the joy I feel when listening to the residents explain how much a new bed or a new sofa means to them.
Food Pantry Donations
During the 2019 holiday season, I supported hunger relief organizations near each of my 122 Bob's Discount Furniture locations across the country. I donated a total of $264,000 to food pantries and hunger relief organizations near my 122 stores, 5 distribution centers and 5 future store locations. Each organization received a $2,000 donation.
"On behalf of Forgotten Harvest, I thank you for your generous donation this Holiday season. This $2000 donation will help us feed the people that are suffering from hunger and food insecurity in Metro Detroit," said Kirk Mayes, CEO Forgotten Harvest. "We will be able to provide enough food for $14,000 worth of groceries or about 8000 meals, going directly to those in need to put food on their table this holiday season."
Employee Engagement
Volunteers set up the 200 beds on the field at Gillette Stadium.
None of these amazing community projects are possible without the support of my employees. I just love seeing the community spirit my team displays from coast-to-coast. My team is always eager and willing to help out with any community project.